Regina Peace Action Coalition presents:
Bruce Gagnon
coordinator of the U.S.-based:
Global Network Against Weapons and Nuclear Power in Space
Wednesday, December 1st at U of R Education Auditorium, 7:30 pm
U.S. Missile Defence:
Trojan Horse for Space Warfare
American activist Bruce Gagnon has been tirelessly investigating and confronting
U.S. STAR WARS schemes for over twenty years.
The Regina Peace Action Coalition is pleased to have Bruce come to Saskatchewan on the 100th anniversary of the birth of Tommy Douglas — despite Cold War hysteria Tommy supported the worldwide "Ban the Bomb" petition and the call for nuclear disarmament. With impeccable foresight, Tommy realized that the path of nuclear armament was one of increasing economic and political instability and human impoverishment. Today, humanity again faces a fundamental challenge — this time we must oppose the weaponization of space.
An expert on the U.S. Ballistic Missile Defence (BMD) scheme, Bruce Gagnon will follow his presentation U.S. Missile Defence: Trojan Horse for Space Warfare with a dialogue with the audience. Everyone is welcome! Admission is Free!
For more info on BMD go to:
Global Network Against Weapons and Nuclear Power in Space: http://space4peace.org
Greenpeace: www.stopstarwars.org
The federal NDP: http://douglas.ndp.ca/starwars/index.php
Contact: Robin at 569-9102 or email rpac@accesscomm.ca
Presented in cooperation with University of Regina Students Union, Regina Peace Council
Council of Canadians, Saskatchewan Federation of Labour
DOWNLOAD THE POSTER And share it with others...

PAST EVENTS
March 20 -- a global day of action for peace, on the 1-year anniversary of the invasion of Iraq.
Regina, Saskatchewan
Rally and March, 1:00 pm, in Regina's Victoria Park.
"A Gathering for Peace for the Children of the World"
Everyone is welcome to attend, and invited to bring signs and noisemakers.
Organized by the Regina Peace Action Coalition (rpac@accesscomm.ca)
Download the poster...
(MS Word Doc)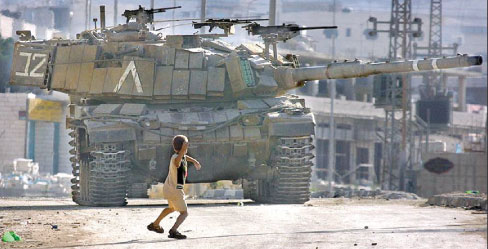 Teach-In on Palestine

Regina City Hall Forum, Saturday November 22nd, 2 - 4 p.m.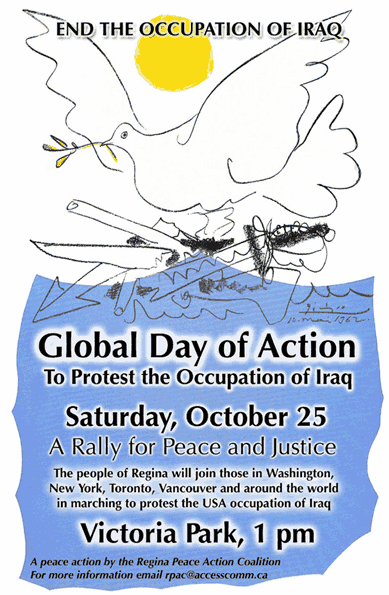 Boycott

companies supporting the war!